Cap Control
Cap control is ideal to ensure the presence of the closures, and the conformity with the quality standards, different technologies for the cap/closure check are available.
Line Monitoring
This system is designed to monitor the production cycle, using a combination of sensors and software to analyse and process the data collected. When combined with a level control and cap inspection, it enables immediate and intuitive evaluation of the performances of the filling and capping machines, thus detecting the precise causes of inefficiencies of the filling and capping processes.
ROBO-QCS – Quality Control System
The optimisation of the filling and capping process has never been so easy! Targeted corrective actions, predictive maintenance, reduction of rejections, to name a few of the advantages of this machine. The aim is to avoid market grievances, enhancing the efficiency of your line at the same time. The ROBO-QCS monitors the whole filling and capping process automatically and continuously.
Leak Detection
The system is available in different configurations, based on a patented technological platform. It checks the pressure and measures the filling level and then by combines the results in a single value. This unique solution avoids false rejections due to consistency and filling level variability.
Label Control
Ensures the presence of opaque or partially transparent labels applied on any container, whether partial or wraparound.
Code Control
The technology and the structure are selected depending on the control requirements to ensure the presence of the alphanumeric codes such as lot and expiration dates which are printed on the body of the container, cap or on the labels by using sensors or cameras.
Checkweighters
We offer a wide range of solutions for dynamic weighing, with accuracy from ± 0.05g up to 60kg, and available with IP54 and IP69K protection and MID approval.
The extremely high reliability of these instruments allows you to respect legal requirements and production tolerances, as well as to avoid waste. Our checkweighers are extensive and configurable; we are dedicated to helping you find the most suitable solution for your sector, product and packaging type, and application complexity – from the simplest weight check to installing MID-legalised metrologic instruments. They can also be integrated into metal detector systems.
Top quality components and materials ensure machine reliability and longevity, and the easily removable and washable plates allow for quick cleaning and maintenance. An intuitive touchscreen interface provides quick learning, fast configuration and product change, maximising productivity.
Metal Detectors
With advanced functions, clean and sturdy designs, and a simple, intuitive user interface, our metal detectors are the easiest way to inspect for foreign bodies.
Our metal detectors inspect the product, checking for ferrous and non-ferrous metal contaminants with BRC standard-compliant accuracy, rejecting defective parts from the production line. The high sensitivity and advanced functions of self-check, phase adjustment and tracking unite the utmost reliability with a reduction in losses due to false rejects.
Our metal detector range, thanks to different sized passages and conveyors, stands out for how wide it is; in fact, it includes instruments to check packaged and loose foods, tray food, tablets and powders, all while respecting the hygiene and safety control standards (ISO-FDA HACCP).
Top quality components and materials ensures great machine sturdiness and longevity, just as the simple design and easily removable and washable conveyors allow for quick cleaning and maintenance. The intuitive graphic display interface ensures quick learning and fast configuration and product change, maximising productivity.
They are available with a degree of protection up to IP69K, can be integrated into checkweigher systems and installed within online systems for process analysis.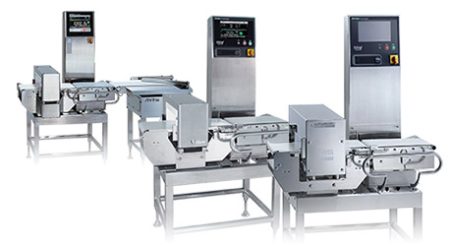 X-ray Inspection
X-ray inspection systems are the best solution to ensure product integrity and prevent risks like customer claims and market recalls.
X-ray inspection systems base their operation on differences in density and, therefore, on the different ray absorption levels of objects unrelated to the product. Therefore, with a single system it is possible to inspect a series of otherwise unidentifiable features:
Contaminants like: bones, stones, ceramic, PVC, Teflon, glass, rubber, fibreglass, etc…
Non-ferrous and non-magnetic stainless-steel metal contaminants, even inside metal film packages or with aluminium foil
Package defects like deformations and cracks
Completeness and fill level, even in closed packages
Presence of necessary elements like the surprise inside a chocolate egg, pins in a packaged shirt
Dynamic weighing and air bubble detection
The operator panel, equipped with a touchscreen and an advanced user interface, makes configuring and use extremely intuitive. The low levels of radiation used make sure that the product is not damaged by the X-rays. The use of materials that guarantee no radiation accumulation and the application of excellent quality active and passive safety system ensures total machine reliability in complete compliance with the ISO-FDA HAACP, BRC standards.
The components require no or minimal maintenance; in any case, servicing is very quick, thanks to how simple the disassembly and washing operations are. They are available with a degree of protection up to IP65, can be integrated into checkweigher systems and installed within online systems for process analysis.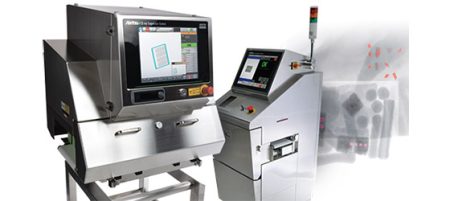 Inspection
Ideally used to ensure the quality of the final product and a reduction of both jams along the line and rejects produced.
There are various configurations available for the inspection systems; these are dependent on the type of inspection needed and the line type. Allows the manufacturer a way to meet all quality control requirements.
The configurations available are as follows:
Preform Quality Inspection
Cap Quality Inspection
Empty Bottles Inspection
Empty Cans Inspection
Container Shape Inspection
Fill Level Inspection
Cap Inspection
Vacuum/Pressure Inspection
Label Inspection
3d Full Label Inspection
Code Inspection